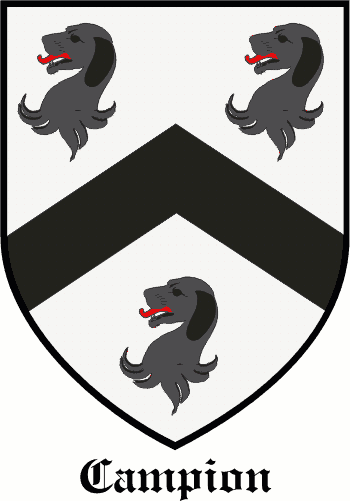 Get this crest printed on...
CAMPION Family History
This interesting name, with variant spellings Campion, Campione, Champion, Champain and Championnet, has two distinct possible origins, the first and most likely being an occupational name for a professional Champion, deriving from the Old Norman-French "campiun" or "campion" (Old French "champiun"), a champion or professional fighter employed to represent one of the parties to a suit in a trial by combat. (In an ordeal by battle the accuser and the accused took the field themselves). The surname is believed to have been introduced into England by followers of William the Conqueror after the Norman Invasion of 1066. Early recordings of the surname include: Herbert Campion (Hampshire, 1148); Geoffrey Champiun (Northamptonshire, 1154); Roger le Campion (Oxfordshire, 1197); and William le Champiun (Suffolk, 1220)...