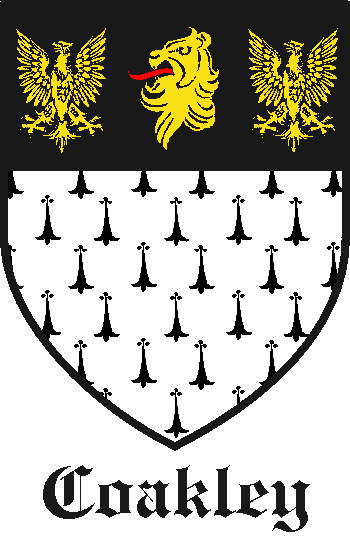 Get this crest printed on...
COAKLEY Family History
This is a surname of Olde English origins. It derives from 'Cokelei' as recorded in the 1086 Domesday Book, and translating as 'The lands of Coca', a baptismal name. There are in fact three such villages in England, in the counties of Worcester, Oxford and Suffolk, although the surname in its various and varied forms, is most recorded in London. This is not in itself unusual. It probably means that between the 14th and 17th centuries the various villages were 'cleared' for sheep farming, and the tenants then moved to the 'mecca' - as London was so perceived to be. In so doing they would take with them as their identity the name of their former village, and given local dialects and poor spelling, this would create the various forms...