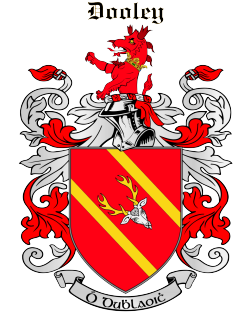 Get this crest printed on...
DOOLEY Family History
Recorded as O'Dooley, Dooley and Dooly, this is a famous Irish surname. It originates from the 12th century Gaelic O' Dubhlaoich meaning 'The male descendant of the Dark Hero' and as such a reference to the first chief of the clan. He may have been Celtic or Breton, as the early history of the clan may suggest that they were 'comer ins'. Nevertheless the clan chiefs were also known as the Lords of Fertullagh in County Westmeath, in medieval times. Arguments over land tenure with the O'Melaghins and the Tyrrells, lead to a migation to the lower slopes of the Slieve Mountains, where some nameholders remain today...