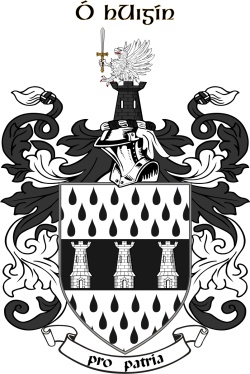 Get this crest printed on...
HIGGINS Family History
Ó hUigín- anglicised O Higgin, O'Higgins, Higgins. Woulfe writes that the root word is 'Uige' -knowledge, skill etc.
MacLysaght writes that it is not from Uige but from an Old-Irish word 'akin to Viking'. See P. Woulfe, 'Sloinnte Gaedheal is Gall' (1923) and E. MacLysaght,'The Surnames of Ireland' (1985).
The sept originally inhabited the Barony of Rathconrath in present Co Westmeath, but migrated to Connacht (see the 1659 numbers in Roscommon , below). In Co Sligo they remained influential until the time of the Cromwellian expropriations. They were of the Southern Uí Néill, and thus descended from the legendary Niall of the Nine Hostages or Niall Noígiallag.
They are often mentioned in the 'Annals of the Four Masters' (compiled from medieval manuscripts by the O Clerys in Donegal in the 1630s). In fact, several of them are mentioned in that record as poets/scholars.
In the 1659 'Census' of Sir William Petty, we find listed as a 'Principal Irish Name' in Co Sligo: O Higgin, 5 families, in Carbry Barony; 11 families of O Higgin in Leynie Barony; 13 families of O Higgin in Tyrerell Barony.
There are no signs of Higgins families in Petty's 'Census' in Co Westmeath.
In Co Roscommon, however, there are 9 families of O Higin & O Higgin in Roscommon Barony; 11 families of Higin & Higgin in Ballintobber; 5 families of O Higgin in Boyle Barony; 7 O Higgin & O Higgan in Moycarnan.
Returns in the 'Census' for Cos Galway and Mayo are missing.
By the time of Griffith's 'Primary Valuation' of property from 1847-64, most Higgins households were in counties Galway 248, Mayo 242, Roscommon 178, Cork 169 and Sligo 144. (I found no trace of the name in the 1659 'Census' Cork lists, which suggests to me a late migration).
In view of the widely known Kevin O'Higgins, it is worth noting that the figures in Griffiths show in total 1965 Higgins and just 2 O'Higgins.
The 1890 Births Registrations found most occurrences of the name in Mayo, Galway, Dublin Roscommon, Cork and Antrim.
In terms of provinces,the 1890 figures are: Connacht 105, Leinster 45, Munster 32 and Ulster 23.
Higgins is also an English name, and is often treated exclusively as such in British surname dictionaries, e.g. P.H. Reaney's 'Dictionary of British Surnames' (1977). This is odd, since in Ireland in 1890 it was the 83rd most numerous surname; and in England & Wales in 1996, it was the 227th most numerous surname (also, numbers of these would be the result of Irish immigration).
Nonetheless, some Higgins bearers, perhaps moreso in the 6 counties, may be of British stock.
Two famous Higgins:
Bernardo O Higgins (1778-1842) the Great Liberator of Chile from Spanish Rule, was the natural son of Spanish Marquis d'Osorno, Ambrosio O Higgins, who came from the Sligo family. Bernardo became the 2nd Supreme Director of Chile.
Kevin O'Higgins (1892-1927) born in Co Laois, Irish Nationalist politician, As a Sinn Féin member he was imprisoned in Britain in 1918. Whilst in prison he was elected as MP for Stradbally, Laois. He took the Pro-Treaty side in the Irish Civil War (1922-1923), and as Minister of Home Affairs he was responsible for Justice; he authorised the execution of Anti-Treatyist Rory O'Connor, who had been best man at O'Higgins' wedding(!). Altogether he confirmed the execution orders on 77 Anti-Treaty republican prisoners. He was shot in reprisal by 3 IRA men on his way to mass in 1927.