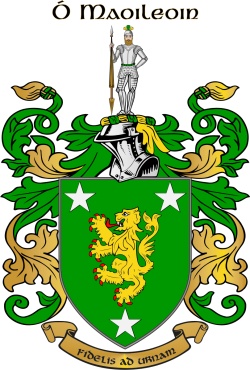 Get this crest printed on...
MALONE Family History
The name Malone comes from Maoileoin, which meant ?one who served with John?. Early Malone history is centered on Offaly where they had their estate in Ballynahown. The Malones who supported King James II had to flee to Europe, where they can be traced in the armies and in the records of France and Spain. ?Molly Malone? is one of Dublin?s outstanding characters, and every Dubliner can sing the popular song describing how she ?Wheeled her whellbarrow through streets broad and narrow, singing cockles and mussels, alive, alive oh!?